Mobile Website Conversion
Added to the gallery on Nov 20, 2012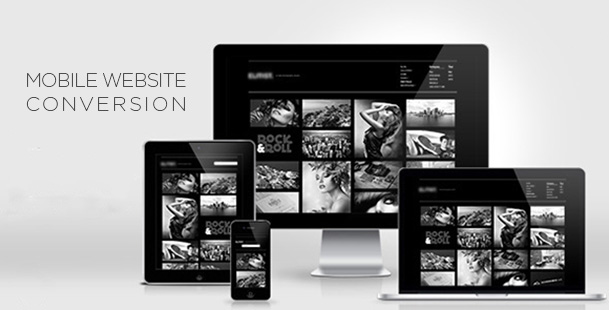 A mobile phone is now considered as a necessity by the average consumer. While the figures are not clear on the number of people who have internet capabilities on their mobile phones we know for sure that more and more people are browsing on the go. The numbers, cloudy as they are, will no doubt increase in the upcoming years.
For site owners it is time to take stock and see what your website looks like from a mobile device. You might easily find out that it does not load at all or if it does it is a jumbled mess. This is your call to optimize your site for mobile and cash in on the increased levels of traffic from mobile browsers.
Here are some ways to easily convert your current site to a mobile site.
Starting at $7.95 per month MoFuse is among the most popular ways to build a mobile site. On top of that MoFuse is super simple to use. On the site you need to choose the option to "Launch a New Mobile Site", select a mobile domain and add your URL.
The next step would be to add elements and content to each page. Once complete clicking on "Layout" will transfer the mobile site elements to your live site where you can still arrange the elements and preview using MoFuse's emulator so that you can see what your site will look like on mobile phones.
You can give MoFuse a test run using their free trial option.
Mippin is free but fantastic tool for making an RSS driven site mobile. The options for customizations are not as extensive as MoFuse but the resulting sites look superb. Mobile sites made with Mippin will be optimized for viewing on over 2,000 handsets.
This free WordPress plugin, Mobilize by Mippin will automatically display your blog in a mobile friendly format to mobile browsers. Once the plugin is activated it will automatically detect the device used for browsing and redirect to the mobile version of your site if applicable.
Images and videos are scaled and converted for an easier and pleasant browsing experience.
Wirenode has a free basic package that will allow one mobile site and pricing that start at 5 Euros and goes all the way up to 190 Euros. The ability to customize sites is not as flexible as MoFuse but they do have more options than Mippin.
Users can configure their domain names, view statistics, upload media and get a mobile preview of their sites. There is also a simple editor for personalizing the mobile site with color, elements and images.
If you run a bigger website and don't want to leave anything to chance you should check out 2ergo.  They can build a custom mobile site for you or you can use their self-service mobile publishing tool to convert your existing site. To make use of the tool or service from 2ergo you'll need to contact them for a quote.
One factor that differentiates MobiSiteGalore from other mobile website builders is that you can easily build your site on your own mobile phone. It comes with a helpful wizard and lots of video tutorials. Use the wizard to add your pages, chose your site's colors and check your newly built site for compliance.
MobiSiteGalore also comes with a lot of extras that you can add to your mobile site like click to call, phone book, Paypal links and Google search. Packages start at $7.99 per month.
It should come as no surprise that Google also offers a solution for converting an existing site to a mobile site. The simple but useful solution option from Google can be found at google.com/gwt/n where you can enter your site URL and see a lightweight version of your site. There are no customization options and the converted sight might be pretty much useless but it is option that you can consider for bookmarking your site.
If you want to see what your site looks like on mobile devices you can use mobiReady. It will point out any potential problem areas so you can address those when building your site.
What tools have you used to create a mobile version of your web design?
–
Author bio: Edwin is an avid marketer and writer currently working at Toronto web design and online marketing firm 9th sphere. Edwin has a passion for great design and helping businesses succeed.

See other blogs powered by: Blog